The Jamboard is a cloud-based digital whiteboard solution which aims to unify collaborative thinking through the provision of powerful and engaging tools and robust integrations. It is positioned as both an app and a physical device which can be used as standalone products or in conjunction with one another.
The Jamboard hardware is a 55" 4K touchscreen which comes with two stylus' and an eraser - neither of which require batteries or complicated set up. Meanwhile, the Jamboard app is included within the Google Workspace offering, available both in desktop and mobile format.
Since entering the market in 2017, the Jamboard has continued to push the boundaries of whiteboarding. Its features spark creativity, enhance team brainstorming and enable real-time collaboration from anywhere.
Now, let's take a look at those features and capabilities that make it so great.
Google Workspace Integration
You can begin a Jam instance directly from the Activities tab in Google Meet or project a physical Jamboard into a call. This allows you to add a visual element to meetings and enhance team creativity. Additionally Jam instances can be saved to your Google Drive and shared with collaborators meaning you will never lose your work. This also means that Jams retain their interactivity and allow you to edit and revisit them as you choose.
Remote Collaboration using the Jamboard
An entire team can join the same Jam instance from multiple devices in multiple locations, enabling real-time collaboration no matter where your colleagues are. Therefore, whether your team works in-office, remotely or in a hybrid model, they will always have creativity and productivity-provoking tools at their fingertips.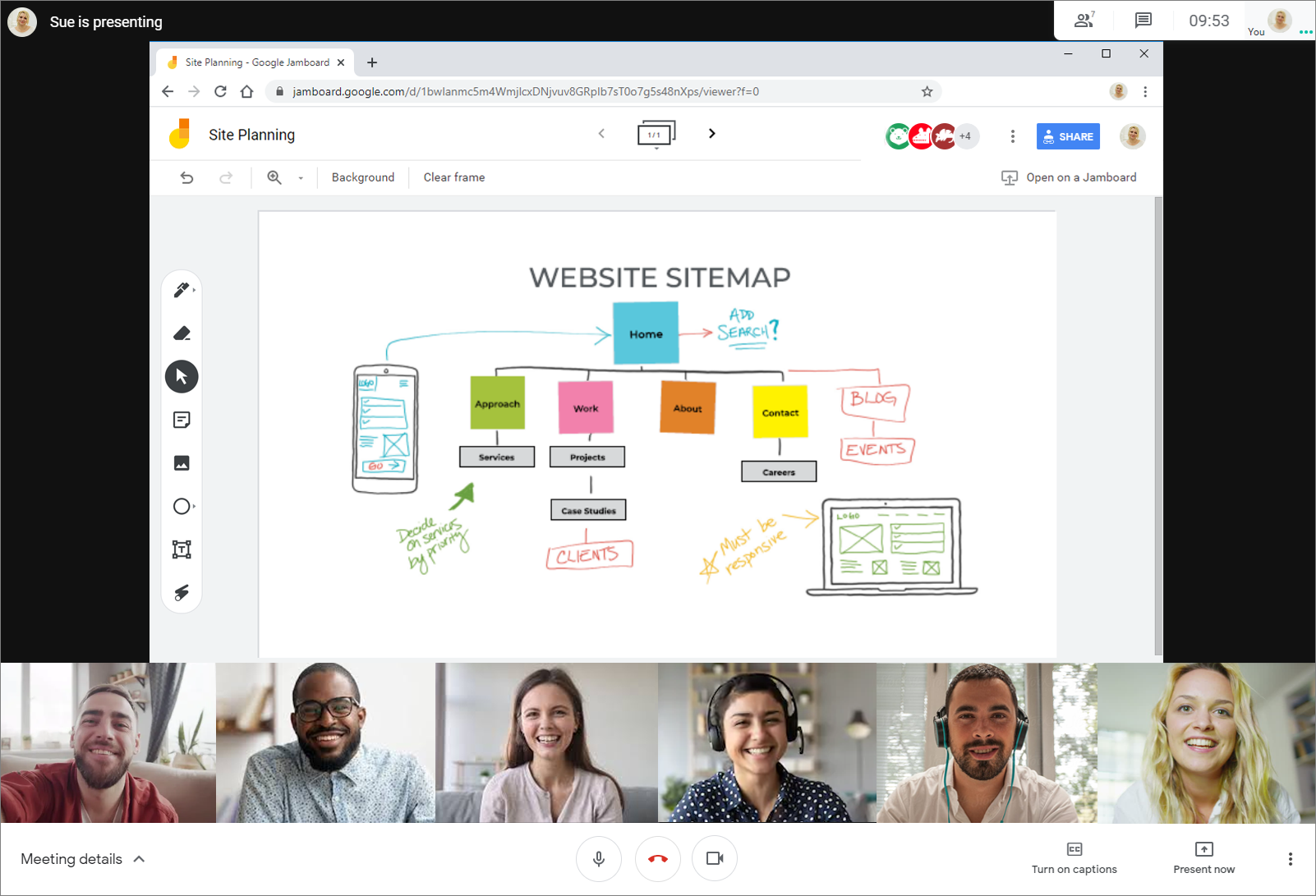 Improved Creativity
There are multiple creative tools available on the Jamboard which will enable you to better express yourself and visualise your work. These include a stylus pen with which you can draw or write, being able to add images from Google Drive or Google Search and a variety of coloured post-it notes amongst many others.
Annotation
The Jamboard enables users to annotate documents online by uploading files from Google Drive and subsequently using the toolbar to take notes, add text, highlight the doc and more. This is a really powerful way to collaborate both with colleagues and clients as you can annotate the same file together in real-time and save a copy of your edits.
Jamboard Assistive Drawing Tools
Assistive drawing is an amazing feature which is available on the Jamboard hardware and mobile versions of the app. It allows you to write or draw shapes and images freehand which will be digitally transformed by Google's AI. This allows work on the Jamboard to become more easily understood and accessible.
Finally, the Jamboard has proven itself as a powerful tool in both educational and business settings by enabling its users to collaborate and engage in creative new ways. If you'd like to find out more about the Jamboard please get in touch.